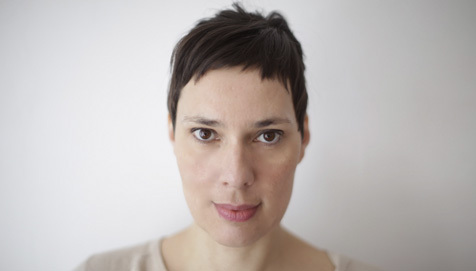 Laetitia Sadier releases 'Something Shines' which is her first solo record since the 2012. The album is due for release on September 22nd on Drag City.
Listen to the album's debut single, "Then I Will Love You Again!" using the Soundcloud link below.
Laucan will release his debut LP 'FramesPerSecond' via Sunday Best. The album follows last month's debut EP Up Tomorrow. Laucan (lor-can), aka Lewes-raised Lawrence Galpin, impressed with the release which featured his dreamy folk ode of the same name.
Now Galpin's unveiled dark, string-addled track "Symptom", with visuals from James Heaphy.
Watch above.
FOR OUR RELEASE SCHEDULES AND MORE ALBUM LISTINGS GO TO [ON THE BLOG]
All We Are are Guro Gikling from Norway (vocals, bass), Luis Santos from Brazil (guitars) and Richard O'Flynn from Ireland (drums/vocals). It hasn't escaped them that the world seems to be spiraling into a period of darkness and through their music; they want to say it's ok not to belong and it's ok to feel different.
Last month, All We Are teased their return with the blistering 'Burn It All Out'. It was the Liverpool-based trio's first new music since their self-titled debut in 2015 and today, they share the news about their forthcoming second album and a video for the single 'Human'.
Sunny Hills will be released on June 9th through Double Six/Domino, produced by Kwes (Solange, Kano, Loyle Carner) it finds the band with a new sense of urgency and a new sound - one that takes in psychedelia, krautrock and post-punk.
Directed by Eoin Glaister, the video is part one of a trilogy about a small village having to face a developer building a motorway through the middle of it. At first, it causes issues between the residents but they begin to learn that by joining forces they stand a better chance against the developers. The video stars Thomas Gray as the motorway developer.
The resulting Sunny Hills is an irresistibly danceable, dark yet uplifting record about what it means to be alive right now and the power of friendship and togetherness in a world intent on driving us apart.
Political, poetic, danceable and affirming - for all the proud citizens of nowhere, All We Are give you Sunny Hills.
All We Are live dates
8th June – Auster Club, Berlin
14th June – Moth Club, London
18th June – Stereo, Glasgow
All We Are Online:
Electric Lines is all about connections. The title refers to the colourful cables that link the modules in his Eurorack synthesizer and to the invisible wires that run between all the different kinds of electronic music that he loves. An apt title for a record which brilliantly unites the strands of his prolific career: a member of Hot Chip and the 2 Bears, songwriter, producer, DJ, Grammy award nominated remixer and co-founder of the Greco-Roman label. Designed to share his stories directly with fans prior to Electric Lines' release, the site is an extension of Goddard's playlist of the same name - which he'll continue to curate throughout 2017. Charting his musical influences, passions and the friendships that inspired the creative process when making the forthcoming album, the interactive site uses Spotify's API technology to power a radio show style experience with original audio commentary from Goddard.
London-based Toby Mortimer (George Fitzgerald's 'Crystalise, Loyle Carner's 'Stars & Shards', King Creosote's 'You Just Want') created a set of bespoke illustrations for the site, with audio responsive loops animated by design collective People.
Stream 'Electric Lines' on Spotify: http://po.st/ELSpotify
Stream on all other platforms: http://po.st/ELListen
Catch Joe Goddard on tour in 2017
April 23 King Tut's Glasgow, UK
April 27 La Badaboum Lieu Paris, France
April 29 Botanique Rotonde Brussels, Belgium
April 30 BITTERZOET Amsterdam, Netherlands
May 4 Heaven London, UK
Peter Perrett - former frontman of The Only Ones - releases his debut solo album How The West Was Won through Domino.
Perrett, whose incisive songcraft and sardonic drawl made him one of the most distinctive voices of the Seventies hasn't released any music for 20 years. Bearing in mind his most famous song began "I always flirt with death" ('Another Girl, Another Planet'), this is one comeback that nobody saw coming.
In the hands of certain songwriters, a story of resurrection and redemption might ring a little hollow, but when the songwriter is Peter Perrett, the usual rules have never applied.
Perrett makes each song on How The West Was Won sound natural and effortless, as though he were continuing a briefly interrupted conversation rather than picking up the threads of a solo career that faltered two decades ago. He claims to have barely touched a guitar in the decade between The One's 1996 album Woke Up Sticky and the 2007 reunion of The Only Ones; with Perrett, a hiatus could so easily turn into a hibernation. Yet Perrett's familiar voice sounds like it simply stepped out of the room for a few minutes and popped back in again.
Perrett has shared the title track and album opener. It finds him railing against American imperialism and celebrity culture. The video is directed by Focus Creeps (Arctic Monkeys/King Krule) and features Peter's band with whom he recorded the album. Watch above.
FOR OUR RELEASE SCHEDULES AND MORE ALBUM LISTINGS GO TO [ON THE BLOG]
Criminal Case 'Pacific Bay' Game US TV Advert
Featuring the track 'Sip 'o Poison' by Cherry Glazerr (Ribbon/Domino Publishing)
CHERRY GLAZERR - APOCALIPSTICK
Australia's Middle Kids debut self-titled EP was released on February 17th, 2017.
The three-piece, led by vocalist / guitarist Hannah Joy, and producer / multi-instrumentalist Tim Fitz, with Harry Day on drums, first came to public attention with the release of their debut single 'Edge Of Town' in May last year. Sir Elton John declared himself a fan of the song, added it to his Apple Music playlist and aired it on his Beats 1 radio show. Triple J placed the song on high rotation, while in the US, the song has had airplay support on over 30 AAA/Alt stations. To date, 'Edge Of Town'has accumulated over 3 million streams on Spotify. Not bad for a band that, when they recorded the single, hadn't played a single show.
Watch the video for 'Edge of Town' above.
Middle Kids will embark on UK tour in May, 2017.
FOR OUR RELEASE SCHEDULES AND MORE ALBUM LISTINGS GO TO [ON THE BLOG]
American indietronic three-piece SON LUX reports back with new music that also supports a good cause. Remedy is the name of a brand new EP which arrives on May 12 via This is Meru. All profits from the sale of this release will go directly to the Southern Poverty Law Center, a non-profit organization helping the most vulnerable members of American society. Remedy was written in the week of the US elections 2016 and the result clearly had an impact on the sound and lyrical content of the band's first release since the 2015 LP Bones.
A first track called Dangerous can be listend to via the stream ABOVE.
FOR OUR RELEASE SCHEDULES AND MORE ALBUM LISTINGS GO TO [ON THE BLOG]
This blog is designed to assist people we know in navigating our sea of artists for their media music searches across both the Domino Recording and Domino Publishing companies. It also includes music from labels we sub-publish. Music delivered via this blog is for promotional use only and delivered to you at our discretion. If you have any comments or queries please feel free to contact us.
SEARCH ROSTER
WE ALSO LOOK AFTER