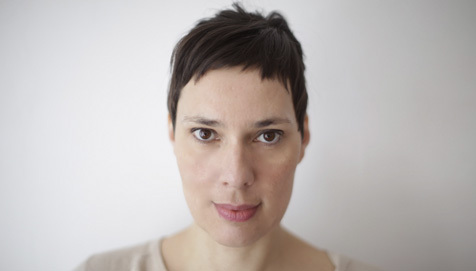 Laetitia Sadier releases 'Something Shines' which is her first solo record since the 2012. The album is due for release on September 22nd on Drag City.
Listen to the album's debut single, "Then I Will Love You Again!" using the Soundcloud link below.
Sorry today shared their new single 'Showgirl' out via Domino. The track and its accompanying video was unveiled as part of Sorry's latest feature, with i-D Magazine. The video, shot by Johnny Goddard, splices footage of the band performing Showgirl', which was produced by Frank Ocean and James Blake collaborator Sean Oakley, watch above.
The band have already aired '2 Down 2 Dance' and Home Demo/ns Vol II - the second release from their visual mixtape series - in 2018. This year, the band also landed a spot in the 'Dazed 100' in April; Dazed magazine's annual list of new and emerging young creative figures with the potential to influence culture this year and beyond.
Centred around Asha Lorenz & Louis O'Bryen, two 20 and 21-year-old childhood best friends, Sorry were signed by revered indie Domino after developing a reputation as the most visceral new band on London's underground circuit. Joined by Lincoln Barrett (drums) and Campbell Baum (bass) the band have already won fans in Dazed ('100'), The FADER ('U.K. artists you need to listen to in 2018'), NME ('The NME 100'), DIY ('Class Of 2018'), Dork ('New bands of 2018'), i-D, Loud And Quiet, Noisey, Another Man, The Line Of Best Fit, and more.
FOR OUR RELEASE SCHEDULES AND MORE ALBUM LISTINGS GO TO [ON THE BLOG]
Tunng announce their upcoming album 'Songs You Make At Night' out 24th August 2018. The first cut from the album is 'ABOP' accompanied by an animated video by Kijek / Adamski, watch above.
This record reunites founding members Sam Genders and Mike Lindsay (fresh from his LUMP side project with Laura Marling) and the rest of Tunng for the first time since 2007's Good Arrows.
Since forming in 2003 and over the course of five albums, Tunng are a group that have explored the boundaries between acoustic and electronic music, becoming synonymous with the folktronica genre before moving into territory that managed to both evade that label and continue to redefine it. Songs You Make At Night finds a group of people reconnecting with a previous collective state to bring out something new and forward-looking.
Songs You Make At Night's tone, theme, lyrics, mood and characters exist in a fluctuating state between night and day ("I got very much into the idea of a dark underwater world suffused with pockets of light and beauty and some of the songs grew out of that." says Sam Genders), the conscious and unconscious.
FOR OUR RELEASE SCHEDULES AND MORE ALBUM LISTINGS GO TO [ON THE BLOG]
Arctic Monkeys have launched their new single 'Four Out Of Five' from their album 'Tranquility Base Hotel & Casino'. The video for the song was directed by Ben Chappell and Aaron Brown, and was primarily shot on location at Castle Howard in the band's home county of Yorkshire. Watch above.
TRANQUILITY BASE HOTEL & CASINO
FOR OUR RELEASE SCHEDULES AND MORE ALBUM LISTINGS GO TO [ON THE BLOG]
With the release of their new album, Sparkle Hard, heading our way on May 18th, Stephen Malkmus & the Jicks have shared a documentary short film shot on-location in Portland, OR directed by Brook Linder. Watch above.
It's an intimate and brilliant glimpse into the quotidian world of Stephen Malkmus – songwriting legend, tennis champ, horseback rider, band-leader, and all-around charming goofball. "Since watching this doc," says Stephen, "I've improved my tennis game immensely… I've shortened my follow through on the forehand and made progress on a buttery topspin backhand."
Director Brook Linder has shared his inspiration, explaining "I have long been a Malkmus fan, and for years have thought very hard about what I would make with him given the opportunity. He's such a unique character and there's obviously so much history involved - making anything at all seemed pretty formidable. To me he is mysterious and nothing is obvious. The idea of making a typical visual to match the sound was out straight away." Brook, thinking back to when he first saw Malkmus play live, at Pitchfork Fest 2007, recalled "the set was mostly Malkmus and an acoustic guitar, and it was so raw and funny and vulnerable and felt rare and weird. I wanted to capture that side of Malkmus somehow – to grab the mundane details of his life – and it turns out they're as enigmatic as he is."
FOR OUR RELEASE SCHEDULES AND MORE ALBUM LISTINGS GO TO [ON THE BLOG]
Los Angeles singer-songwriter
Cornelia Murr
announces her debut album 'Lake Tear of the Clouds'
out
July 13
via Autumn Tone.
Murr also shared the album's first single "Man on My Mind" with a video directed by Charlotte Hornsby and Jesse Ruutila. Watch above.
Working with producer Jim James of My Morning Jacket, Murr conjures a hazy blend of folk and cosmic soul music, her voice floating over ghostly soundscapes that bring to mind the fantasias of Broadcast, Stereolab's most pastoral moments, and the spooky romance of Beach House.
Recorded primarily at Palomino Sound, the record showcases Murr on vocals, Omnichord, mellotron, pocket piano, electric/acoustic guitars, whistles, and percussion. She's accompanied by contributions from James; piano and keys by Bo Koster of My Morning Jacket; Lola Kirke on vocals; Naomi Greene on vocals and electric harp. Bassist Shane McKillop and drummer Justin Flint, both of Amo Amo, comprise the rhythm section.
Murr has long kept her songs close - shielding them from "roommates and lovers" - but Lake Tear of the Clouds represents her desire to no longer hide herself or her music away. Both intimate and psychedelic, the album explores womanhood and the personal revelations that accompany maturing into oneself. "I've spent so long/In a silent space scream/Now I've forgotten how it feels/To know someone's listening," Murr sings on "Billions." But Lake Tear of the Clouds presents Murr's voice as one well worth hearing.
FOR OUR RELEASE SCHEDULES AND MORE ALBUM LISTINGS GO TO [ON THE BLOG]
Protomartyr announce Consolation E.P., which they recorded in part with friend Kelley Deal and will be released June 15th via Domino. Watch the Yoonha Park ('Don't Go To Anacita' director) directed video, above.
Two of the four songs feature Deal on vocals alongside singer Joe Casey, including 'Wheel of Fortune', the EP was recorded by Deal's R.Ring bandmate Mike Montgomery.
Joe Casey and Kelley Deal had this to say of the collaboration and EP:
"Early 2017 proved to be a productive time for the band. We were writing songs right up to recording Relatives In Descent and wanted to keep that momentum going right after. Making 2015's split single "A Half Of Seven" with R. Ring was one of our favorite recording experiences, so the decision to head down to Dayton, Kentucky and spend a weekend in May recording the four songs that became the Consolation E.P. was an easy one." Joe Casey
"For Mike and I, working on this EP with Protomartyr was a re-kindling of the tender spark that was struck upon our first encounter with them years ago in Texas. They were graciously tolerant and receptive to my production ideas on the songs and the project quickly grew beyond our private orb. We have cello from Lori Goldston, viola from Jocelyn Hach and even bass clarinet from Evan Ziporyn, and I do some singing with Joe. There's a lot of trust involved when an artist places their songs in your hands, and we were very mindful of that while intentionally trying to take the songs in new directions. Candyland in Dayton, KY is home-base for R.Ring recording, and it's close enough that the Proto-men could make it down to lay the tracks down. This is the second project like this we've done with them, so we're ready to flip the tables and have them produce and record some of our songs!" Kelley Deal
FOR OUR RELEASE SCHEDULES AND MORE ALBUM LISTINGS GO TO [ON THE BLOG]
Devotion is the hugely anticipated debut album from one of London's most exciting underground talents, Tirzah out on the 10th August 2018 via Domino Records. The first track taken from Devotion comes in the form of 'Gladly', along with avideo directed by Hannah Perry, watch above.
Written and produced in collaboration with long-time friend and collaborator Micachu, Devotion's hallmarks are rooted in a fresh, raw emotion and feeling.
The Essex-born performer has been at the centre of the vital post-grime and UK garage sound of London for the better half of a decade but it's only now that her work has come to full fruition, delivering what feels like a landmark debut LP.
Songs about the complexity and conflict of a very human, very confusing feeling come through in listless lines like "I thought that I would call you but I never could do it," while a faltering bass line carries it through a tumbledown assemblage of samples and vocal cutups. Track titles like 'Gladly,' 'Guilty' and 'Reach' reveal their emotional tone with a single word, while the deconstructed beats underscore the brittle nature of desire and romance. It is on tracks such as 'Go Now' where you can really hear the soul and gospel influences of Tirzah's surprising inspirations in Al Green, Barry White and D'Angelo. There's an understatement, though, a vulnerability that is unique to her own songwriting, where a simple four syllables, like "I want your arms," can speak volumes on loss and longing.
Devotion is very much a journey, positioning Tirzah as a unique contemporary soul voice. It's a deeply personal hallucination of British RnB at its best, very much its own peculiar construction, built on the sad streets and gloomy days of a forever breaking heart.
FOR OUR RELEASE SCHEDULES AND MORE ALBUM LISTINGS GO TO [ON THE BLOG]
This blog is designed to assist people we know in navigating our sea of artists for their media music searches across both the Domino Recording and Domino Publishing companies. It also includes music from labels we sub-publish. Music delivered via this blog is for promotional use only and delivered to you at our discretion. If you have any comments or queries please feel free to contact us.